Electronic clinical quality measure (eCQM) standards are critical to data consistency, validity, and interoperability. Standards, in the context of health information technology, refer to agreed-upon methods and terminology for connecting systems such as file formats for electronic documents, messages, and related health care data elements. Standards pertain to data transport, data format and structure, and the meanings of codes and terms. See the Interoperability Standards Advisory for the recommended eCQI standards.
Key eCQM Standards
Key standards for electronic transmission of health information used to support eCQMs are
Electronic Clinical Quality Measure (eCQM) Standard Tools and Resources
The use of eCQM-friendly tools and resources provides standardization in developing eCQMs. Standardization facilitates implementation by minimizing burden.
Bonnie is a web-based tool used by eCQM developers to test eCQM logic during the measure development process.
Cypress is an open-source testing tool used by health IT vendors to certify their electronic health records (EHRs) and health IT modules (CEHRT) for calculating eCQMs. The Cypress application includes the Cypress Validation Utility + Calculation Check (CVU+). The CVU+ facilitates real world testing, providing health IT vendors the ability to perform QRDA validation testing using their own test patients.
The Measure Authoring Tool (MAT) is a web-based authoring tool required for developing and maintaining eCQMs for CMS programs. Use of the MAT is to ensure eCQM developers are using the established health information technology (IT)  standards and clinical terminology code systems needed for eCQM implementation. Specifically, the MAT enables measure developers to author eCQMs in Health Quality Measure Format (HQMF) using the Quality Data Model (QDM) data elements, Clinical Quality Language (CQL), and other standards to meet future measure authoring requirements.
United States Core Data for Interoperability (USCDI) + Quality Data Element List
Value Set Authority Center (VSAC) provides the ability to develop value sets from the Unified Medical Language System terminologies.
The figure shows the connections among eCQM standards and the tools used to help develop and test eCQMs.
​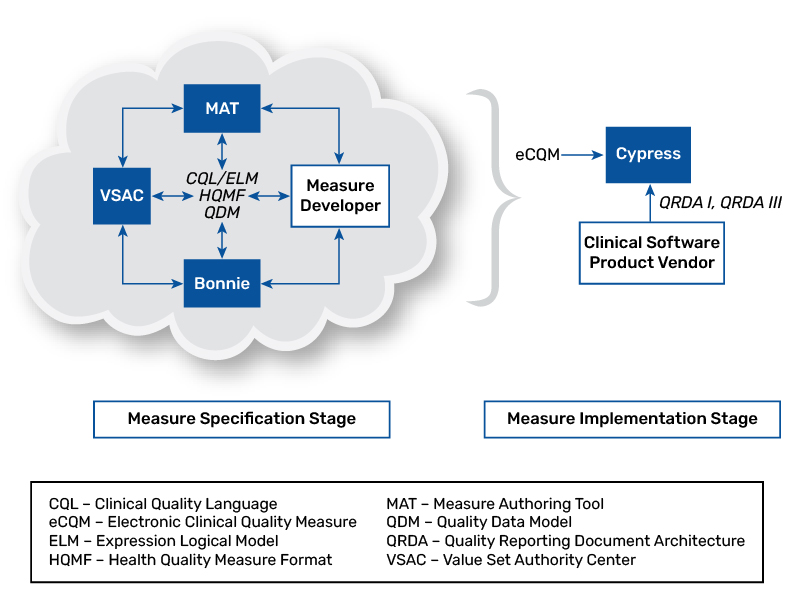 Find additional eCQI tools on the individual tools and resources tab of each standard on the main menu of the eCQI Resource Center and within the eCQI Tools & Key Resources.
Standards Update Cycle
Revisions to standards occur constantly to improve how data are captured, used, and shared. The standards update cycle figure provides an overview of the steps CMS standards contractors use to move through to support updates to standards used in CMS quality reporting and incentive programs.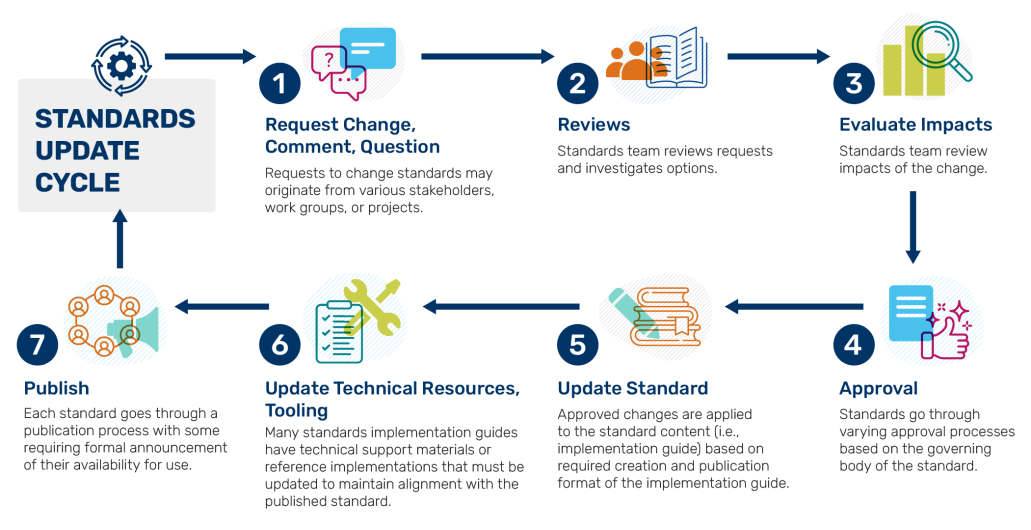 Last Updated:
Sep 21, 2023