Fast Healthcare Interoperability Resources (FHIR®)
FHIR is a Health Level Seven International (HL7®) standard for exchanging healthcare information electronically. It is the next generation exchange framework being adopted by the healthcare community to advance interoperability. Electronic health records (EHRs) represent patient data in different ways (e.g., medications, encounters). FHIR provides a means for representing and sharing information among clinicians and organizations in a standard way regardless of the ways local EHRs represent or store the data. FHIR combines the best features of previous standards into a common specification, while being flexible enough to meet needs of a wide variety of use cases within the healthcare ecosystem. FHIR focuses on implementation and uses the latest web technologies to aid rapid adoption.
FHIR Quality Measurement
The healthcare community and CMS are exploring a potential transition to FHIR-based quality measurement beginning with research and testing. Currently used quality standards, Quality Data Model (QDM), Clinical Quality Language (CQL), Health Quality Measure Format (HQMF), and Quality Reporting Document Architecture (QRDA), remain the backbone of electronic clinical quality measure (eCQM) development and reporting. However, the FHIR standard has potential to better align with the EHR's ability to share data in clinical settings and to improve alignment with clinical decision support initiatives and to reduce overall burden on measure developers and implementers.  
In order to assess the transition to FHIR quality measurement, it is important to understand the components of an eCQM and how the components will evolve with FHIR. An eCQM is composed of three primary parts, the data model, expression logic, and structure.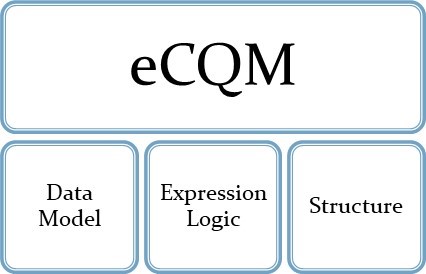 Data Model: How to describe the patient's medical record data needed to calculate the measure
Expression Logic: How to calculate the result and evaluate the performance
Structure: The container and sections describing measure metadata, numerator, denominator, exclusions, exceptions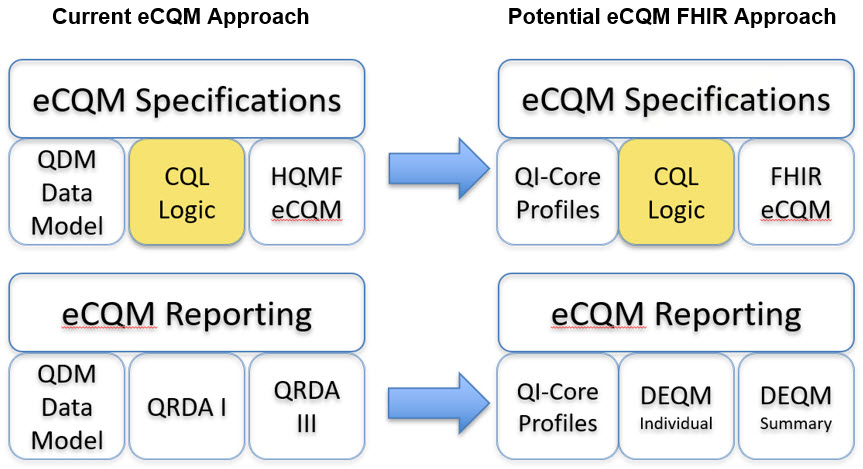 FHIR eCQM uses the FHIR Quality Measure Implementation Guide, Data Exchange for Quality Measures (DEQM). The goal is to align quality measurement standards for eCQM development and reporting using FHIR:
FHIR
FHIR is composed of foundational, infrastructure, administrative, data-exchange, and clinical reasoning capabilities. The Clinical Reasoning Module of the current version, FHIR R4, includes a collection of resources, extensions, and profiles to use the clinical knowledge artifacts such as clinical decision support rules, clinical quality measurement and reporting, order sets, and other capabilities to reason about the healthcare process prospectively and retrospectively. This module enables the same requests for information to be used to improve care at the time of service (clinical decision support) and to evaluate care after it occurs (quality measurement), a vast improvement over previous care improvement standards.
FHIR Resources
Resources are the basis for all exchangeable FHIR content. Each resource includes a standard definition and human-readable descriptions about how to use the resource. Each resource also has a set of common and resource-specific metadata (attributes) to allow its use clearly and unambiguously. FHIR Resources can store and/or exchange many types of clinical and administrative data, which is the foundation for the data model used in quality measurement.
FHIR Profiles and Implementation Guides
A profile is a FHIR Resource that has been changed to meet the needs of a specific use case. For example, the FHIR Observation resource can be used to indicate anything observed about a patient. To indicate vital signs, a vital signs profile is required and provides greater structure by listing specific data (e.g., blood pressure, respiratory rate) along with appropriate coding for the specific data element(s). Using the vital signs profile in EHRs avoids variation and makes data sharing easier.
Multiple profiles are often assembled into Implementation Guides (IGs) that can be easily consumed. As an example, QI-Core is an IG that contains profiles for representing the clinical data in an eCQM.
Exchange Specifications
The exchange specification defines how the resources are exchanged and managed. This can be achieved in the form of real-time Representational State Transfer (RESTful) application programing interfaces (APIs) as well as messaging and documents. RESTful APIs allow for the exchange of FHIR recourses using HTTP requests. The exchange specifications provide the foundation for reporting of eCQMs using FHIR. 
Implementation Guides for Quality Measurement
For the purposes of investigating a transition to FHIR-based quality measurement, CMS is collaborating with HL7 to advance emerging standards and develop additional FHIR profiles for both eCQM development and reporting.
*US Core is an implementation guide representing FHIR for the US Realm
Benefits of FHIR
Provides faster, real-time access to quality data
Reduces burden for reporting quality measures

Aligns CMS eCQM reporting with industry clinical data exchange framework, reducing implementation burden
Enables automated data retrieval from EHRs and submissions of quality data through use of standards-based APIs

Promotes Interoperability

Aligns data exchange requirements for quality measurement and reporting with interoperability standards used in other healthcare exchange methods
Allows for additional quality data exchange methods

Reduces effort to implement new measures

Simplifies data mapping to a single FHIR mapping vs. mapping to HQMF and QRDA

Improves alignment between eCQMs & clinical decision support

Both use a common FHIR data model (QUICK/FHIR QI-Core)
HL7 has many FHIR resources located on the HL7 website including a FHIR overview
eCQM Related Tools for Use and Evaluation
FHIR Specifications and Implementation Guides
FHIR Testing Tools
Test Data Tools
Last Updated:
May 21, 2020