How are CDS & eCQM different?
Clinical Decision Support (CDS) and electronic Clinical Quality Measures (eCQMs) are closely related, share many common requirements, and support health care quality improvement. It's important to also understand the differences between them and the efforts to help them work together (harmonize).
The standards used for the electronic representation of CDS and eCQM were initially developed separately and used different data models and computable expression languages. The use of different standards
Makes re-using or sharing machine readable logic between eCQMs and CDS rules very difficult
Creates a burden for health IT developers and those who provide technical support for implementation
Beginning with the eCQMs intended for implementation in calendar year 2019, Clinical Quality Language (CQL) - a Health Level Seven International (HL7) authoring language standard that provides the ability to express logic that is human readable yet structured enough for processing a query electronically—closes the gap on the differences between CDS and eCQMs.
Why harmonize CDS & eCQM?
Harmonization of CDS and eCQM standards will improve the ease of implementation. Harmonization will also make it easier to integrate and facilitate health IT enabled clinical quality improvement. Ultimately, the same or similar standards will be made and used to
Measure if appropriate care was given
Suggest care to providers and care teams when there are opportunities to improve care quality
Instead of developing a new standard that could be used for eCQMs and CDS, the focus is on
Modularizing or organizing the existing standards so they're more flexible
Making common components that can be shared by both eCQMs and CDS
Who is harmonizing CDS & eCQM?
To learn more about this effort, please visit the HL7 Clinical Quality Framework (CQF) Wiki. CQF is an HL7 project led by CDS and Clinical Quality Information Work Groups to identify, develop, and harmonize standards that promote integration and reuse between CDS and eCQM.
The table below outlines the common areas and differing standards currently used in CDS and eCQMs.
 
Patient and Clinical Data
Computable Expression Logic
Metadata and Structure
Evaluation Model
CDS

Virtual Medical Record (vMR) for for V3-based CDS

QI Core (for FHIR-based CDS)

Clinical Quality Language

CDS Knowledge Artifact Implementation Guide

Decision Support Service

Decision Support Specification (DSS) for V3-based CDS

eCQM

Quality Data Model

Clinical Quality Language

Health Quality Measure Format

Quality Reporting Document Architecture
The strategy employed by the CQF initiative is to identify the common components used by each domain and define common standards for each of the core components.  
Common Shared Standards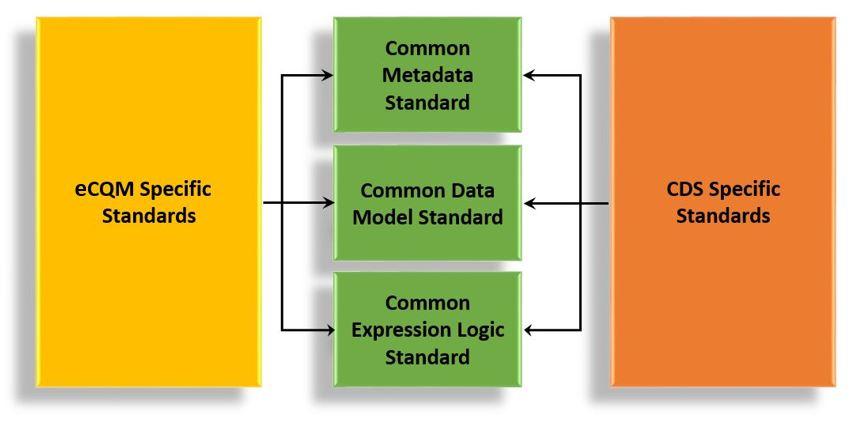 ​
To date, these efforts have produced the following specifications for these common elements:
Common Metadata Standard:
HL7 Specification: Clinical Quality Common Metadata Conceptual Model, Release 1
Common Expression Logic Standard:
HL7 Cross-Paradigm Specification: Clinical Quality Language, Release 1 (CQL)
Common Data Model Standard:
HL7 FHIR Profile: Quality, Release 1 - US Realm (QI-Core)
QI-Core
QI Core Directory: http://hl7.org/fhir/us/qicore/history.html
QICore (Quality Improvement Core Framework) is a US Realm Implementation Guide of the FHIR Specification that defines a uniform way for quality measurement and decision support knowledge to refer to clinical data. The profiles align as much as possible with DAF and incorporate content from the (Quality Data Model) and the (Virtual Medical Record) specifications.
Current version: http://hl7.org/fhir/us/qicore/index.html
The QI Core Implementation Guide defines a set of FHIR profiles with extensions and bindings needed to create interoperable, quality-focused applications. The profiles in this implementation guide derive from and extend the US Core profiles to provide a common foundation for building, sharing, and evaluating knowledge artifacts across quality improvement efforts in the US Realm.
As an HL7 FHIR Implementation Guide, changes to this specification are managed by the sponsoring workgroup, Clinical Quality Information, and incorporated as part of the standard balloting process. The current roadmap follows closely behind the base FHIR roadmap, and the US Core Implementation Guide.
CQF and HL7® FHIR® 
HL7 FHIR® (Fast Healthcare Interoperability Resources) Specification is a standard for exchanging healthcare information electronically. The CQF initiative has developed various FHIR resources, profiles, and implementation guidance to represent quality measures and decision support artifacts. These resources are
Consistent with the Common Metadata Standard, and can use Clinical Quality Language (CQL) to represent expression logic, and the Quality Improvement Core Framework (QI-Core) profiles to represent clinical information.
Defined and introduced as part of the Clinical Reasoning Module of the Standard for Trial Use (STU) 3 version, currently STU 4, of the FHIR® standard. 
Being used and tested in a variety of settings including FHIR connectathons and ongoing pilots to validate that they can effectively fulfill the need for a single set of standards to support delivery of both decision support and quality measurement artifacts.
To learn more about this effort, please visit the Clinical Quality Framework github website.